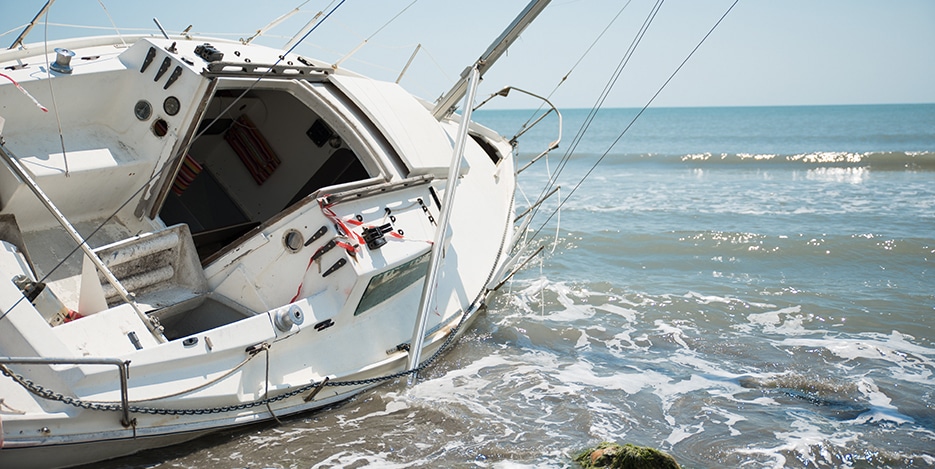 Hartford Boating Accident Attorneys
Assisting victims of boat and cruise accidents in Hartford & Manchester, CT
Connecticut is full of beautiful coastal towns, with miles of shoreline and water available to locals and tourists alike for activities like boating, sailing, canoeing, cruises, and all sorts of other water adventures. The majority of the time, boaters operate and drive their vessels safely and responsibly, but when someone makes reckless or negligent decisions, tragic accidents can occur.
The United States Coast Guard reports that 2018 saw 4,145 boating accidents, with 633 deaths, 2,511 injuries, and approximately $46 million in property damage. The state of Connecticut specifically had 39 boating accidents, with five fatalities. When you're a passenger on a boat, you're at the mercy of the boat's operator, as well as any other vessels out on the water. If other individuals are negligent or careless, and their actions cause you harm, they should be held responsible.
The Hartford personal injury attorneys at Barry, Barall & Spinella, LLC represent people injured in boat, cruise, sailing, or other watercraft accidents caused by others. We seek compensation for your injuries and losses, with skilled and experienced counsel. Contact our offices for guidance regarding your case today.
Types of boating accidents
Although boats, personal watercraft, sailboats and similar vessels are considered "recreational," it doesn't mean that anyone without proper training and skill should drive them – especially under the influence of alcohol or drugs. When operated by an inexperienced or reckless person, boats can cause catastrophic or fatal injuries.
Common types of Hartford area boating and watercraft accidents include:
Boat flooding
Boat wake
Capsizing and sinking
Collisions with other vessels or objects
Fuel fires and explosions
Passengers falling overboard
Slips and falls on board
Striking underwater objects
Vessel grounding
The attorneys at Barry, Barall & Spinella, LLC talk to you about the details of your accident to determine exactly how it occurred. Whether you were recreationally boating, or taking a professional sightseeing cruise along the Connecticut River, we can help.
Causes of Hartford boat and watercraft accidents
Much like car accidents or truck accidents, many boating accidents happen due to someone's reckless or negligent actions. Boat owners and cruise operators should understand not only how to operate their watercraft safely and obey the rules of the waterway, but also how to keep their passengers, other boaters, and swimmers safe. When they don't, accidents may ensue. Common causes of boating accidents include:
Operator inexperience and inattention. An improperly trained boat captain may be uneducated about basic boating rules and safety, as well as what to do in an emergency. Much like distracted driving, if boat operators aren't paying attention (especially in crowded waters), they cannot quickly maneuver out of the path of oncoming objects.
Alcohol or drug use. Anyone operating a boat in Connecticut must follow the same drinking and driving laws as motorists, with Boating Under the Influence (BUI) defined as a blood alcohol concentration of 0.08. Operating any vehicle under the influence can slow reaction time, impair judgement, and cause catastrophic accidents.
Reckless and careless behavior. Many watercraft accidents happen as a result of reckless behavior from either the driver or the passengers. Examples of this might include jumping the wake of another boat while on a jet ski or water skis, driving too close to other boats, allowing passengers to ride on the bow or other dangerous parts of the boat, or racing other vessels.
Failure to yield to signals. Inexperienced or distracted operators may ignore or misunderstand important navigational rules or signs, causing preventable accidents.
Excessive speed. Today's personal watercraft and recreational boats can travel at higher speeds than ever – which can make them all the more dangerous in the wrong hands. When a boat is speeding, the operator could have trouble slowing down quickly when encountering other boaters or swimmers, or have a high-speed collision with a stationary object.
Overloading. You may have noticed all boats and personal watercraft have a maximum number of people allowed on board or weight capacity. This is for safety and emergency reasons and must be followed. Generally this is because there won't be enough safety equipment on board in an emergency. If these rules aren't followed, the likelihood of an accident is greatly increased.
Equipment failure. Without proper upkeep, maintenance, and repair, boats can't operate at full capacity. If any part of a boat's equipment malfunctions, an accident can occur. Boat owners and companies must ensure their vessels are properly maintained and repaired.
Weather. Often, unpredictable storms and winds can cause accidents. However, boat owners must take proper precautions and have emergency safety plans in place for inclement weather events.
Boat, cruise, and other watercraft accidents can result in serious injuries to you and your loved ones. You may be facing years of medical bills and lost wages, and it's imperative the responsible parties are held liable for your losses.
Liability for boating accidents and injuries
In order to hold any party liable for your injuries or losses, you must show that they were negligent, and that negligence caused you harm.
For example, a boat captain would be negligent if they had operated the boat while intoxicated, distracted, or while speeding. A cruise company would be negligent if it employed an inexperienced operator whose lack of knowledge caused an accident. If a piece of equipment on the boat itself was defective and that defect caused the accident, the manufacturer, seller, or repair shop may be liable.
Because of the wide range of potential liability, a boating accident claim can be complicated. The Hartford attorneys at Barry, Barall & Spinella, LLC investigate your accident, securing and preserving all possible evidence to determine fault and liability. We negotiate on your behalf and don't settle for anything less than the full amount of compensation you deserve for your injuries and losses. If you've lost a loved one in a boating accident, we can help you file a wrongful death action.
Trustworthy Hartford boat accident lawyers
The injury attorneys at Barry, Barall & Spinella, LLC fight for the rights of accident victims throughout CT. If you or a loved one were injured in a boating, cruise, or other watercraft accident due to another's negligence, we can help you seek maximum compensation for your injuries. Get in touch with us today. We're located minutes off I-384 in Manchester. To schedule a free consultation with one of our lawyers in Hartford or Manchester, please call 860-649-4400 or fill out our contact form.