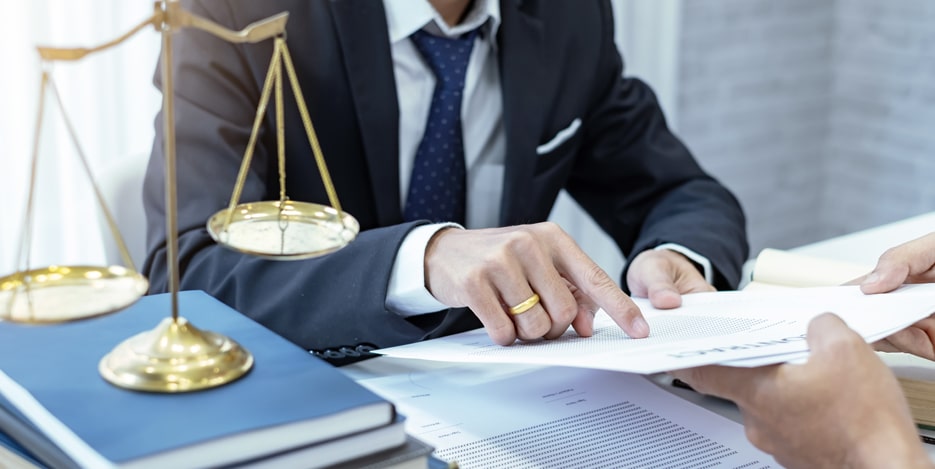 Hartford Criminal Defense Lawyers
Aggressive criminal defense representation for Hartford and Manchester
Being arrested for any crime is frightening. Your freedom and reputation are at stake. Convictions mean more than just prison time and large fines. Convictions, especially for felonies, can affect every aspect of your life. Even when you are released from jail, you may not be able to find a job or a place to live after you serve your sentence. You need experienced Hartford criminal defense lawyers who will fight for you from the moment you are arrested.
The legal team at Barry, Barall, Taylor & Levesque, LLC is dedicated to defending your rights. For 20 years, we've worked to secure justice for our clients. Our Hartford criminal defense lawyers will guide you through the complex criminal justice process. Whether you've recently been charged or learned you're under investigation, don't risk your freedom by going through this alone. Our Hartford criminal defense attorneys step in at the beginning and fight hard for you until the end. Call us today.
Common questions regarding criminal defense in Hartford
What types of criminal charges do your attorneys handle?
Our criminal defense attorneys work with clients who have been charged with any type of crime from minor misdemeanors such as small-time theft to serious felonies such as rape and murder, as well as those appealing their convictions. Some of the many types of criminal cases we handle include:
Assault on Public Safety Officer
Criminal trespass
False Statements
It's crucial to work with an experienced Hartford criminal defense lawyer who has a thorough and complete understanding of the charges and consequences you may be facing, and – more importantly – familiarity of the jurisdiction where your case will be heard. That's where Barry, Barall, Taylor & Levesque, LLC comes in.
Attorney Ryan P. Barry, Attorney Maria Barall & Attorney Katelynn MacKinnon have handled some of the most difficult cases anyone could be charged with such as murder, armed robbery, home invasion, manslaughter, rape, risk of injury to a minor, child pornography, and all types of drug cases. When you work with our defense attorneys, you get large law firm resources with a small law firm feel. You get one-on-one attention with personalized strategies to get you the best outcome possible.
What's the difference between a felony and a misdemeanor?
Criminal charges in Hartford are classified as either misdemeanors or felonies. Generally, misdemeanors are punishable by up to 364 days in jail (in some cases, there's no jail time at all). Felonies are the more serious charges and can result in more much serious penalties including a year in prison – or often more. Our criminal defense attorney can explain the details and penalties that come with these types of charges, which are outlined in Connecticut GS 53 through 54.
What are the stages of a criminal case?
Each stage of a criminal trial is critical to your defense. Aggressive representation at the early stages often determines how successful your defense will be. The key stages of most criminal cases are as follows:
The investigation. The police must have probable cause to believe you committed a crime to arrest you. They obtain probable cause through first-hand observations, speaking with witnesses, examining any preliminary evidence, and other methods.
The arrest. The police can arrest you, with or without a warrant (depending on the facts). Once you're arrested you will be booked at a local police station where you will be fingerprinted and photographed. The police may search you. You have the right to assert your Fifth Amendment right not to testify against yourself after an arrest. You also have the right to ask to speak with your lawyer. At this point the arrestee may be released on a promise to appear or bond out from the station.
Arraignment and bail. At the arraignment, a judge informs you of the charges against you. If you have not yet posted bond, the judge will determine the amount of bail you will need to be released from prison pending your trial. The judge may also impose conditions of release should defendant post bond, and/or impose a court ordered protective order between defendant and involved parties if relevant. Our skilled defense lawyer fights to have defendants released on their own recognizance, or that the bail be minimal.
Probable cause hearing. These hearings are only for crimes punishable by death, life imprisonment without possibility of release or life imprisonment (i.e., murder mainly).
Plea-bargain negotiations. Normally, any discussions about a plea-bargain take place before your trial. Defendants who agree to a plea-bargain agree to plead to less serious charges in return for the dismissal of the more serious charges. The judge has to approve the plea-bargain.

This is two parts: the first between defense counsel and the state. If no agreement is reached then we can request a judicial pretrial which is with the judge, defense counsel, and the state.
If this is a Part A matter, there is a judicial pretrial each time from the start.

Pre-trial motions. In many cases, our lawyer will file motions to suppress any evidence against you that was improperly seized or violated your rights. We may file other motions to learn as much as we can about the prosecution's case - such as a motion to determine if the prosecution has any exculpatory evidence that can help prove your innocence.
The trial. You have a right to trial before a jury of your peers (members of the community). Or you may elect a bench trial (judge instead of jury) At the trial, the jury decides (enters a verdict) whether or not you are guilty of the criminal charges beyond a reasonable doubt.
In some cases, we may file an appeal if we believe there was an error in any of the preceding stages that affected the outcome of the verdict. We have two top-flight appellate attorneys with proven track records who can help you determine whether an appeal is appropriate and whether to hire our firm to take an appeal from a conviction. Representation on an appeal requires a separate engagement letter than the one you sign for representation at the trial level.
Can I avoid a trial or jail through a diversionary program?
Connecticut has a variety of diversionary programs available to some individuals charged with criminal offenses. The programs available depend on the charges, whether you have a prior record, and other factors. If accepted into a diversionary program, you must complete the terms of the program in order to have the charges dismissed. Common terms include attending substance abuse or other educational programs, not getting into any further trouble, and other conditions which generally focus on treatment instead of punishment.
Connecticut's Diversionary Programs offer a way to dismiss criminal charges in exchange for completing a program. These programs include:
Accelerated rehabilitation (for first-time arrests for less serious offenses)
Supervised Diversionary Program (for Veterans and people struggling with their mental health)
Alcohol education and/or treatment
Drug education and/or treatment
Family violence education
School violence prevention
Youthful Offenders
Firearms (for very specific charges only)
Talk to our attorneys to find out if there is a diversionary program for your particular case.
Can my conviction be erased?
Defendants seek to have their criminal record expunged in order to find employment, obtain a trade or professional license, obtain an education, acquire a loan, or find a place to live. There are different types of pardons:
An Absolute Pardon. You can request a pardon from the Board of Pardons and Paroles for any crime. A full pardon means that your criminal record cannot be used against you. It will not appear on background checks.
A Certificate of Employability. While your record is not expunged, you can use the certificate for certain licenses and jobs.
A Commutation. This will reduce your sentence, but it will not restore your rights.
Do I need a Hartford criminal defense lawyer?
If you've been accused of a crime, even if you haven't been charged yet, do not underestimate your situation. The outcome of a criminal case can affect your entire future, even when the truth is on your side. The experience and dedication of a seasoned criminal attorney make all the difference and give you the best chance for a successful outcome for your case.
The legal team at Barry, Barall, Taylor & Levesque, LLC brings a variety of strengths and benefits to the table. Our Hartford and Manchester criminal defense attorneys:
Have a thorough understanding of the law. We've all seen at least a few of the dozens of crime shows on television, but the law is certainly much more complicated than it appears. We have 20 years of experience in state. We know how to build a strong, strategic defense for your case.
Fight steadfastly for you. Make no mistake – when you're charged with a crime, the state is working against you. They have a massive amount of resources and staff on their side. Don't try to go this alone, no matter how minor you may think the charges are. We dedicate our resources and ourselves to our clients, and our only goal is your best outcome – dropped or lessened charges.
Know the Hartford court and criminal system. An experienced attorney gives you the advantage of his or her familiarity with the local courts, clerks, judges, and prosecutors. This gives you an edge as we work your case through the system, protecting your rights and asserting your defenses
Negotiate plea-bargains and diversionary programs for you. We understand when to discuss plea-negotiations with the prosecution, and what arguments to make. We fight to have the charges against you dismissed or reduced to less serious charges. We also understand when and how to request that you be placed in a diversionary program.
Provide an aggressive defense on your behalf. One of the most important things you can do to protect your freedom and your future is to hire an experienced and skilled criminal defense attorney. Whether you've been accused of a misdemeanor or a felony in Hartford, we can help make a positive difference in the outcome of your case.
What defenses do we assert on behalf of our clients?
The defenses vary depending on the charges. In most cases, we assert the following defenses:
The prosecution did not prove its case beyond a reasonable doubt.
The evidence used against you violated one of your Constitutional rights such as the right to be free from unauthorized searches, to not have to testify against yourself, to cross-examine witnesses, and to a speedy trial.
In many cases, we challenge the validity of any machines or tests that were used such as radar or breath machines. We work to show that some element of the offense was not proven. When relevant, we argue that the prosecution can't prove you "intended" to commit an offense.
We challenge the credibility and reliability of the witnesses against you.
Contact information for courts and jails in Hartford County, CT
We've pulled together all the contact information you may need regarding local Hartford courts, detention centers, and juvenile matters. Our attorneys can provide more detailed guidance about your specific information – just give us a call.
When you work with our defense attorneys, you get large law firm resources with a small law firm feel. You get one-on-one attention with personalized strategies to get you the best outcome possible.
Do you have a Hartford criminal defense lawyer near me?
Barry, Barall, Taylor & Levesque, LLC maintains an office in Manchester right off I-84 or I-384 and serves the greater Hartford area. Call us as soon as you're arrested. We'll immediately advise you of your rights and begin to assert all your defenses.
Experienced Hartford criminal defense attorneys
The criminal defense lawyers at Barry, Barall, Taylor & Levesque, LLC are dedicated to protecting the rights of our clients. When you're facing criminal charges or are being investigated for criminal activity, it's important you get legal representation immediately. Our record of success speaks for itself, but we are happy to talk about how we can assist you. To schedule a consultation with one of our criminal defense lawyers in Hartford or Manchester, please call 860-659-4400 or fill out our contact form.