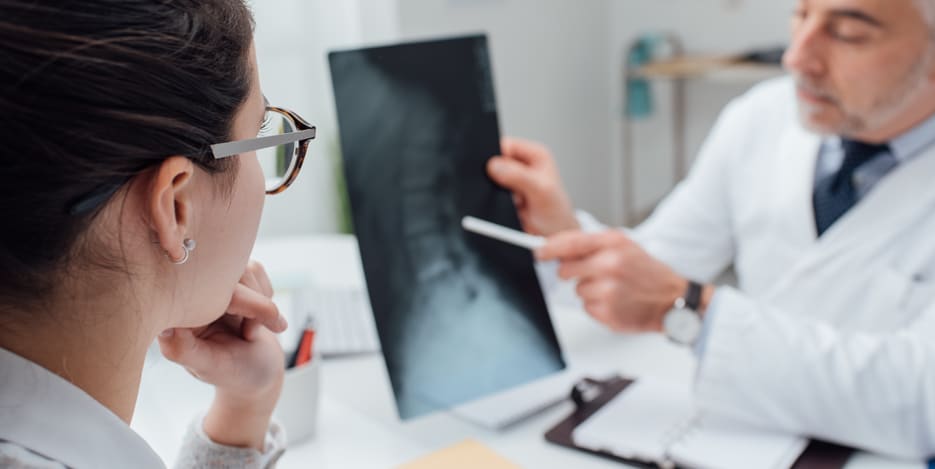 Hartford Spinal Cord Injury Attorneys
Advocating for back and spine injury patients in Hartford & Manchester, CT
Spinal cord injuries can be one of the most catastrophic injuries a person can experience in their lifetime. Severe injuries like spinal cord injuries affect individuals not only physically, but also emotionally and mentally. These types of injuries affect the body so systemically that they can cause permanent disabilities, which can lead to anxiety and depression as you adjust to a new living situation.
The National Spinal Cord Injury Statistical Center (NSCISC) reports that, in the United States, nearly 290,000 people live with a spinal cord injury (SCI), and about 17,700 new injuries occur each year. Living with an SCI can mean a lifetime of medical expenses, physical therapy, chronic pain and changes in or loss of income. It's not hyperbole to say that experiencing a spinal cord injury can change your life in an instant.
The Hartford personal injury attorneys at Barry, Barall, Taylor & Levesque, LLC represent individuals harmed in accidents due to someone else's negligence. If you've suffered a spinal cord injury because of another's carelessness, get in touch with us today. We'll work to ensure you're compensated for your losses and they're held accountable for the damages they've caused.
Causes of Hartford spinal cord injuries
Unfortunately, spinal cord injuries can happen to anyone at anytime, anywhere. You or a loved one can suffer a spinal cord injury in a variety of situations or accidents, including:
Construction site accidents
Defective products
Falls from heights
Sports injuries
Violent crimes and assaults
Workplace accidents
These types of injuries can lead to permanent disability and years of medical expenses and care. These financial burdens tend not to account for the mental and emotional toll of such a disabling injury, as well as the stress of both living with and being a caretaker for an individual with an SCI. Your Hartford spinal cord injury attorney can talk to you more about these types of intangible losses.
Common types of spinal cord injuries
Just about any kind of accident or incident can result in a spinal cord injury depending on where the impact occurs. An SCI comes in varying levels of severity and, accordingly, causes varying levels of injury and damage to the victim. To better understand the levels of spinal cord injury, it's important to first understand the areas of the spine.
Cervical
The cervical area of the spine is the neck area, connecting to the brain. The higher up the spinal cord the injury occurs, the more serious the injury. Therefore, the majority of serious cervical spinal cord injuries result in quadriplegia, a loss of movement from the neck or shoulders down. Cervical spinal cord injuries damage the connection between the brain and the rest of the body, resulting in bladder and bowel disruption, respiratory issues and loss of motor functions.
Thoracic
The thoracic part of the spine makes up the middle portion of the spinal cord. These types of SCI can result in paraplegia – loss of movement in the lower part of the body. Paraplegia can result in bladder and bowel control issues, as well as loss of motor skill function in other parts of the body.
Lumbar
Finally, the lumbar portion makes up the lower region of the spine. Injuries below the lumbar region might not result in paralysis, but can still cause serious medical problems like nerve damage or reduced motor skills.
No matter where your SCI is located, spinal cord injuries are painful and can cause weeks, months or a lifetime of pain or disability. Some patients never recover from a spine or back injury, resulting in piles of medical bills and no income to pay them. You need a tenacious Hartford injury lawyer to fight for you and secure the compensation you need to pay your medical bills and get you back on your feet.
Complications from spinal cord injuries in Hartford
Spinal cord injuries can affect every function in your body. Your spinal cord carries messages from your brain to your body that tells it how to move, so injuries to the spinal cord can take away the ability to walk or control certain parts of the body. Quadriplegia and paraplegia can cause serious secondary medical conditions, like:
Fertility issues
Loss of bladder control
Loss of sexual function
Muscle spasms and pain
Nerve damage
Pressure sores
Respiratory problems
These are only a few of the complications and injuries a patient might experience from a spinal cord injury. Everyone's injuries and circumstances are different.
Potential compensation for SCI claims
If you or a loved one were a victim of negligence and suffered a life-altering injury, you deserve compensation. Under Connecticut law, you may be eligible to recover financial losses for your injury – things like past and future medical expenses, lost earning capacity, or pain and suffering. The spinal injury attorneys at Barry, Barall, Taylor & Levesque, LLC provide experienced legal guidance on your claim, working to maximize your compensation by taking into account the following:
Expenses for any in-home assistance or care
Loss of consortium and enjoyment of life
Modifications needed to your home and vehicle to maintain a reasonably active and normal lifestyle
Ongoing care you may need now and in the future
Past and future medical bills, including surgeries, doctor visits, prescriptions, therapy and transportation
The effects of your injury on you and your loved ones
Your ability to continue working and any loss of earning capacity
In cases of extreme negligence and recklessness, the court may order punitive damages – financial damages meant to punish and deter the defendant from further careless behavior.
Compassionate Hartford spinal cord injury lawyers
If you or a loved one was injured due to another person's recklessness or negligence, the personal injury attorneys at Barry, Barall, Taylor & Levesque, LLC can help. We understand the specialized types of care and compensation victims require. Contact our legal team today. We're located right off I-84 or I-384 in Manchester. To schedule a free consultation with one of our personal injury lawyers in Hartford or Manchester, please call 860-649-4400 or fill out our contact form.