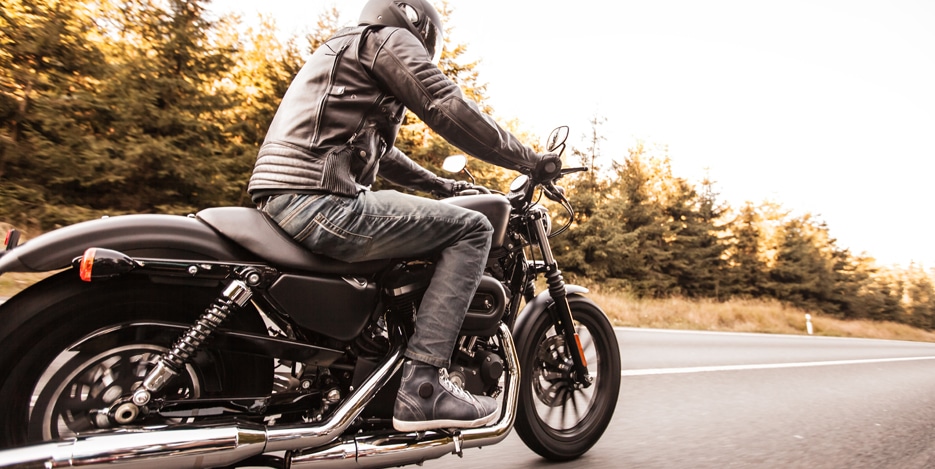 Hartford Motorcycle Accident Lawyers
Representing injured motorcyclists in Hartford & Manchester, CT
If you're a motorcycle enthusiast, you know there are some beautiful areas to ride here in Hartford County and throughout Connecticut. Route 44, the Farmington River, Route 19 and dozens of rural roads offer scenic views and drives. And, of course, many motorcyclists rely on their bike to get back and forth to work or make other every day trips.
As a motorcyclist, you have the same rights (and responsibilities) as every other motorist. Sometimes, however, sharing the road with cars and trucks can end in tragedy for the biker. Even when you obey all traffic rules, many motorists fail to pay attention to motorcyclists, often causing serious car accidents and injuries.
If you were hurt in a motorcycle accident that wasn't your fault, the Hartford personal injury attorneys at Barry, Barall, Taylor & Levesque, LLC work to hold the negligent party accountable. Our experience working with local families and clients give us the efficiency and the edge you need to secure the compensation you deserve for your injuries. Talk to us before you talk to anyone else.
Common causes of Hartford motorcycle accidents
According to the National Highway Traffic Safety Administration (NHTSA), motorcyclists are about 28 times as likely as passenger car occupants to die in a motor vehicle traffic crash. And, 5,172 lost their lives in 2017. Cars, trucks and SUVs have extra safety features like an enclosed frame, seatbelts and airbags, while motorcycles have none of these and generally leave their riders completely exposed.
Although many motorcycle accidents happen for the same reasons car accidents do, it's important to note that when a passenger vehicle collides with a bike, the consequences can be much more devastating. Causes of motorcycle accidents that may be due to another's negligence include:
Dangerous road conditions. There may be situations where a driver doesn't cause your accident – road conditions do. Things like debris in the road, fallen branches, failure to clear construction work or potholes can cause accidents due to the negligence of the municipality or entity that owns the road or highway.
Drunk or drugged driving. Impaired driving – whether it's alcohol, drugs or even driving drowsy – puts everyone on the road at risk. Because of their slow reflexes and poor decision-making skills, impaired drivers may not even see motorcyclists on the road.
Improper lane changes. Every vehicle has a blind spot, and every driver needs to account for it. Motorcycles are less easily seen in a blind spot, but that doesn't excuse a motorist for not checking. In fact, it makes it even more important. When an inattentive driver makes sudden lane changes, they can collide with a motorcyclist and cause a bad accident.
Manufacturing defects. Sometimes your motorcycle – or the other motorist's vehicle – could be the cause of your accident and injuries. Maybe the brakes failed or a tire blew out. In cases like these, you could be eligible to file a product liability action against the manufacturer.
Sudden vehicle stops. When a car or truck slams on the brakes in front of a motorcyclist, the rider has little time to react. Rear-ending a car on a motorcycle is completely different than in a passenger vehicle. The rider may be thrown from the bike into traffic, causing serious injury or death.
The accident attorneys at Barry, Barall, Taylor & Levesque, LLC can work with you to prove fault and secure satisfactory compensation for your injuries and losses.
Serious motorcycle accidents cause serious injuries
Part of the attraction of motorcycles is the freedom they provide – that feeling of riding in the open air. However, that freedom and exposure to the elements also comes along with its own hazards and risks. If you're involved in an accident, depending on the circumstances, your injuries could range from mild to catastrophic, taking anywhere from weeks to years to recover. Sometimes an accident is so serious it may take the life of a loved one. Our Hartford attorneys can't undo the harm, but we can help you start to make things right.
What are common injuries from motorcycle crashes?
Amputations. Very serious accidents can result in injuries like amputations, especially if the motorcyclist is pinned under a vehicle or suffers a crushing injury. These types of catastrophic injuries can result in a lifetime of necessary medical care.
Broken bones. Common in bike accidents, breaks and fractures often occur when a motorcyclist is thrown from their bike.
Burns. Hot exhaust pipes or fuel igniting into flames can cause severe and disfiguring burns in the event of a serious accident.
Road rash. Safety gear and outwear provides a lot of protection in the event of an accident. However, it's not effective every time and not every rider wears it. When a bike goes down, the rider can go down with it, experiencing friction burns and lacerations that can easily become infected.
Spinal cord injury. When a physical trauma affects the spinal cord, an accident victim can suffer neurological damage, as well as partial to total paralysis, resulting in lifelong medical care.
Traumatic brain injury. Head and brain injuries can range from concussion to major brain damage. Even with a helmet, motorcyclists can still experience serious brain injury that can result in permanent disability. Note that the state of Connecticut doesn't have a mandatory helmet law, except for riders under the age of 18. However, it's always advisable to wear a safety-approved helmet.
Wrongful death. Among the most tragic of accidents, reckless drivers may sometimes cause the death of an innocent motorcyclist, leaving behind loved ones to deal with emotional and financial loss.
Our Hartford motorcycle injury law firm fights for you, working to recover expenses for medical bills and lost wages, among other damages and losses.
How can a Hartford motorcycle accident lawyer help me with my case?
The difference between a good motorcycle injury attorney and a great motorcycle injury attorney is an in-depth knowledge of insurance policies and fighting people's bias against bikers. When you need the full compensation you deserve, it's smart to work with local, experienced attorneys who get results.
At Barry, Barall, Taylor & Levesque, LLC, we deal with insurance companies in every claim, and we refuse to let them lowball you with unfair settlements. We know what your injuries, damages and claim are worth, and we work to recover your:
Past and future medical expenses
Lost wages and future earning potential
Pain and suffering
Property damage (if applicable)
After an accident – and after you receive medical care – talk to an attorney as soon as you can. Our Hartford attorneys can get started collecting evidence and documentation, as well as interview witnesses and other parties involved in the accident.
Aggressive Hartford motorcycle injury lawyers
After a motorcycle accident, many insurance companies will attempt to prey on victims and offer them low settlements. The personal injury attorneys at Barry, Barall, Taylor & Levesque, LLC can step in and protect your rights to fair compensation. Talk to us today. We're located right off I-84 or I-384 in Manchester. To schedule a free consultation with one of our personal injury lawyers in Hartford or Manchester, please call 860-649-4400 or fill out our contact form.