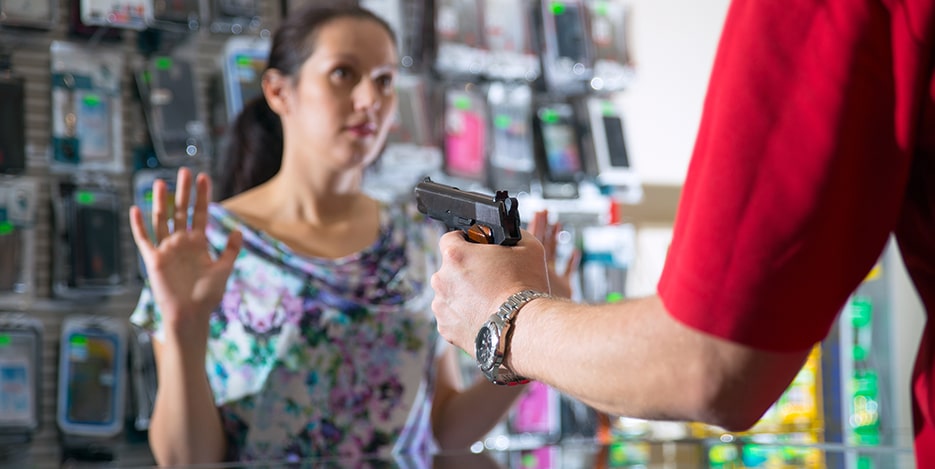 Hartford Robbery Defense Attorneys Fight for You
Skilled defense against theft and robbery charges in Hartford & Manchester, CT
Here in CT, the courts define robbery as when an individual uses physical force or the threat of force against another person to take his or her property. It differs from burglary in that it involves the use of force or physical confrontation between the robber and the victim. Theft on its own may be a misdemeanor, but physical intimidation turns the action into a felony – and penalties upon conviction can be severe.
Arrests for theft and robbery often hinge on the descriptions and testimony of witnesses, who are often proven unreliable by misremembering details or misidentifying their assailants. Our attorneys protect your rights – we understand that you are innocent until proven guilty, and we work to clear your name and avoid the harsh penalties that can come with a theft crime conviction.
The Hartford criminal defense attorneys at Barry, Barall, Taylor & Levesque, LLC provide strategic legal representation when you're facing robbery charges. Our lawyers have years of experience defending clients against theft, burglary, and larceny charges, working to keep your record clean and negotiate with prosecutors for the best possible outcome for your case. Call us today.
What you should know about robbery charges
Under state penal code, robbery, burglary, and theft all fall under the category of larceny. The difference between the different types of larceny depends on the way the act was committed. For example, burglary involves taking property from a home without the use of force. Check fraud or embezzlement are also forms of larceny and theft.
Under CGS § 53a-133, a person commits robbery when, in the course of committing larceny,  he or she  uses or threatens the use of physical force.  He or she may use force to either prevent the person from resisting the taking of the property, or to compel the person to aid in the commission of the larceny.
Typically, a person may be arrested for robbery if he or she takes money or property from another:
By the use of physical force or intimidation
With the intent to keep it permanently
With the victim present
Without the owner's consent
As you can see, unlike other types of theft, robbery entails taking money or property directly from someone. One example of robbery would be an individual entering a convenience store, showing the clerk a gun, demanding money from the register, taking it, and leaving. This satisfies charges for robbery, as the individual used physical intimidation, took money with intent to keep without consent, and took it directly from the victim.
What are the penalties for robbery in Hartford?
Robbery charges here in CT are considered felony crimes and are punishable by fines as well as jail time. If you're facing robbery charges, penalties can include the following:
Robbery in the first degree. First-degree robbery is when an individual forcibly takes property and causes physical injury to a victim, is armed with a deadly weapon, uses or threatens to use a dangerous instrument, or displays a firearm. This is a Class B felony, which can result in sentences from five to 20 years in prison, probation, and fines related to the financial gain from the robbery.
Robbery in the second degree. Second-degree robbery occurs when a person forcibly takes property and is aided by another person, causes physical injury to a victim, shows a firearm or purported firearm, or the property is a vehicle. This is a Class C felony, resulting in sentences of up to 10 years in prison, probation, and fines.
Robbery in the third degree. An individual may be convicted of third-degree robbery if he or she forcibly takes property without a weapon. This can include pushing someone down to grab his or her bag, purse snatching, and the like. This is a Class D felony, with possible sentences of one to five years, probation, and fines.
The courts consider robbery a serious theft crime, and if you're facing charges, you need a serious defense attorney on your side. The Barry, Barall, Taylor & Levesque, LLC legal team has the knowledge, experience, and strategies ready to work to help you avoid conviction and harsh penalties. When you work with us, we commit ourselves to protecting your rights.
Do I need a Hartford robbery defense attorney?
Because robbery is a felony, the consequences can be severe, with mandatory jail time and considerable fines and other penalties. Conviction of a felony can result in consequences that follow you long after you've served the terms of your sentence. Your reputation, career, and relationships can be at stake with a felony on your criminal record.
The sooner you get a skilled criminal defense attorney on your side, the better. Your lawyer can speak to authorities on your behalf, ensuring your rights are protected and you aren't pressured or intimidated into saying anything incriminating. Further, experienced attorneys know how to negotiate and work with the court for a better outcome for your case.
Don't try to face robbery charges without effective legal defense – we can help.
Experienced Hartford robbery and theft defense lawyers
The criminal defense attorneys at Barry, Barall, Taylor & Levesque, LLC defend clients against a variety of theft charges in the Hartford area. When we take your case, we investigate all aspects of the case against you, finding weaknesses in the prosecution, and building a strategic defense. Call us today. We're located minutes off I-384 in Manchester. To schedule a free consultation with one of our lawyers in Hartford or Manchester, please call 860-649-4400 or fill out our contact form.