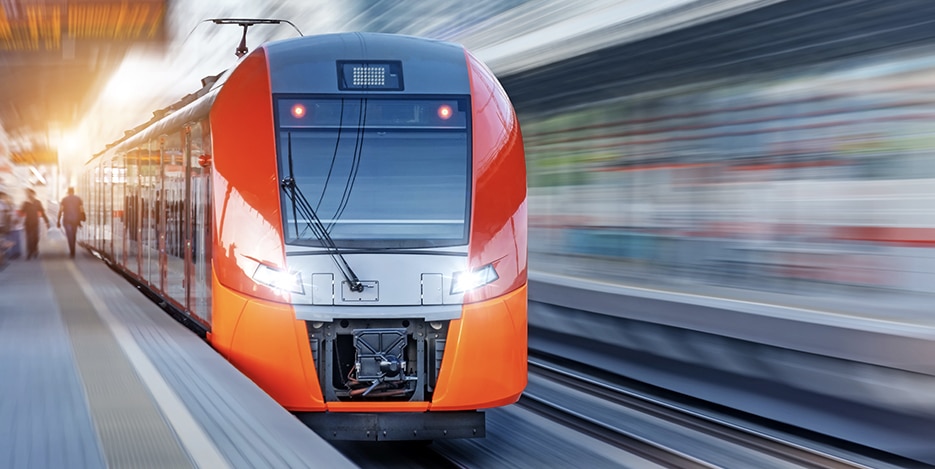 Hartford Train Accident Lawyers
Skilled legal guidance after train accidents and derailments in Manchester & Hartford, CT
Train tracks, carrying both passengers and freight, run through our state from top to bottom. Whether you're hopping on CT Transit, Amtrak, Metro North, or another line, trains are an efficient way to commute and travel. However, as our infrastructure and trains age, they require more maintenance to run safely and smoothly, and conductors must remain vigilant and alert when operating these massive multi-car trains.
Did You Know
Because of a train's size, speed, and the number of passengers they carry, few train accidents are minor. Derailments and collisions typically result in catastrophic injuries and risks to nearby pedestrians and motorists. The United States Bureau of Transportation reports 1,870 train accidents in 2018 – including 1,341 derailments and 199 reported injuries.
If you were injured in a train accident, talk to the Hartford personal injury attorneys at Barry, Barall & Spinella, LLC. We can consult with you on your accident and your injuries, and help seek the maximum compensation you need to recover from your injuries. Remember, the statute of limitations for CT is just two years, so contact us today.
Why do train accidents happen?
Trains are incredibly large vehicles – larger than a car or a semi-truck – and must be operated by a trained and skilled engineer or conductor. Human error or negligence can lead to conditions that result in tragic accidents. The train's maintenance crews also must ensure that all necessary repairs and inspections are completed before any train leaves the station. Even a minor malfunction on a train can cause a huge accident.
Train accidents can happen for a variety of reasons. Many occur at train crossings, where a car may attempt to "beat" the train, or a railroad crossing alert that malfunctions. In these types of accidents, passengers in the car, passengers on the train, and any passersby can be at risk.
Every accident and every circumstance is different, but typically, most train and railway accidents happen due to:
Careless drivers and pedestrians. Sometimes it's not the fault of the engineer or train company. Reckless or distracted pedestrians or drivers may end up on the tracks at the wrong time, causing terrible collisions.
Derailments. A derailment is when a train runs off its rail for any number of reasons. A derailment can be a minor situation if the train is at low speed, but derailments at high speed can be catastrophic.
Human error. Human factors often contribute to tragic railroad accidents. If a railway employee is operating a train or signals while distracted, impaired, or drowsy, disastrous accidents can happen. Companies have a responsibility to properly screen all employees.
Mechanical failure. Trains, signals, and tracks are all required to have regular inspections. However, from time to time their complicated systems may fail, setting up conditions for disaster.
Negligence. A train accident can be caused by the negligence of a train conductor, railroad employee, or the railway company itself. Or, perhaps the accident was due to a defective piece of equipment, or a badly maintained stretch of track.
Unprotected railroad crossings. Many car accidents occur at railroad crossings that may have inadequate or no protection at the crossing. The Federal Rail Administration (FRA) reports 2,214 vehicle-train collisions at crossings in 2018.
Our injury attorneys will investigate all aspects of your accident to determine what happened and which parties may be at fault.
Liability in a train accident
Because of the complexity of an accident with a vehicle the size of a train, you need experienced counsel who understand how to collect and analyze every last detail in order to determine fault and liability. Both national railway companies and commuter rail lines have a responsibility to hold a high level of safety for their passengers and to the general public.
Unfortunately, when they fail to do so, tragic accidents can occur. Liability can be assigned to any number of parties – the conductor or engineer, the railway company, the government entity in charge of maintaining road conditions or tracks, negligent motorists, or others. The large number of factors and variables involved in train accident cases makes it vital to have the Hartford attorneys at Barry, Barall & Spinella, LLC on your side.
Compensation for injuries from Hartford train or rail accidents
Victims of train and railway accidents often suffer serious injuries that require extensive medical care. They may suffer temporary or long-term disability, chronic pain, and other trauma, including:
Broken bones
Burns
Cuts and lacerations
Loss of limbs
Traumatic brain injuries
Whiplash
Our attorneys seek compensation for your injuries when another party's negligent actions led to the train accident. We demand restitution for your losses and damages, including:
Medical care and treatment including medical bills, hospital visits, medication, imaging and x-rays, and therapy
Lost wages, including future loss of earnings and earning capacity
Future cost of care
Pain and suffering
You may also be eligible to file a wrongful death action if you have lost a loved one in a train or rail accident due to another's negligence. Our legal team can provide guidance.
Skilled Hartford train accident lawyers
At Barry, Barall & Spinella, LLC, we understand the complexities of train accident cases. When we take your case, we help you cut through the red tape and hold the right people responsible for your injuries and losses. We have the experience and the resources to fight for you. Contact us today to learn more about your options. We're located minutes off I-384 in Manchester. To schedule a free consultation with one of our lawyers in Hartford or Manchester, please call 860-649-4400 or fill out our contact form.