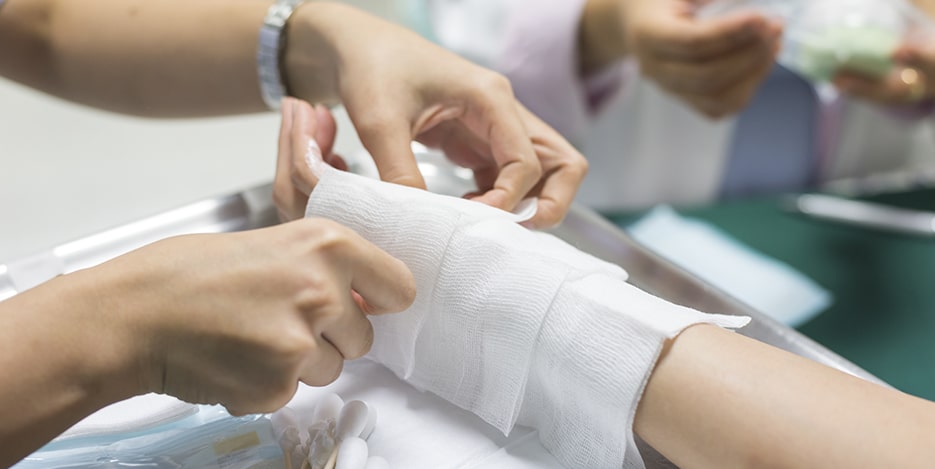 Hartford Burn Injury Attorneys
Compassionate representation for burn injury victims in Hartford & Manchester, CT
Fires, explosions, and other types of catastrophic incidents can cause devastating injuries. Victims of burn injuries in particular may face permanent physical and emotional scars that affect them for the rest of their lives. Burns can happen to anyone, anywhere – at home, on the job, or completing other activities of daily life.
The American Burn Association estimates 486,000 burn incidents and treatments in 2016 (the most current numbers available). Burn injuries are terribly painful, expensive to treat, and slow to heal. Treatment can require multiple surgeries and skin grafts, with lengthy and painful recovery times. Patients are at risk for infections and, depending on the severity of the injury, may be unable to return to work for weeks, months, or years. Additionally, many burn patients need extensive therapy and counseling to adjust to any changes in their abilities and appearance.
The Hartford personal injury attorneys at Barry, Barall & Spinella, LLC understand the complex nature of burn injuries. We work with victims who were injured through no fault of their own, seeking compensation and accountability from the party or parties who caused your accident. If you were hurt or lost a family member in a fire, explosion, or other incident, contact us today for guidance.
Common causes of Hartford burn injuries
The most common cause of burn injuries are thermal burns. These are the kind of burns you get from touching a hot surface, like a stove, or from making contact with an open flame or fire. At home, a person can suffer a burn from an unattended candle, grill, or hot embers in a fireplace. Other types of dangerous burns include:
Chemical burns
Cold burns and frostbite
Electrical burns
Radiation burns
Scalding burns
Sunburns
Burn injuries can happen in any number of ways – car accidents, train accidents, and even boat accidents. A worker may suffer chemical burns after an on-the-job accident, a defective product may have started a fire, or perhaps someone spilled hot liquid on you at a restaurant. Regardless of how your burn occurred, it's crucial you seek medical attention as your first priority. After your medical needs are addressed, your Hartford attorney can help you with your next steps.
Degrees and types of burns
Burn injuries can range from mild to life-threatening. It's important to understand the severity of your injury, as even a minor untreated burn can quickly spiral out of control. Following is the general classification of burns. However, you should speak to your doctor or urgent care provider for advice regarding any injury.
First-degree burns. These burns are the mildest, affecting only the top layer of skin. Typically they result in minor damage, with redness, inflammation, and pain, but no scars. However, if the burn happens on the face, or over a large area of the body, you should see a medical professional. Otherwise, you can treat the burn with over the counter medication at home.
Second-degree burns. Second-degree burns may result in blisters, more serious redness and inflammation, and soreness beyond the top layer of skin. Sunburn is a second-degree burn. These burns should be checked out by a doctor.
Third-degree burns. These are extremely serious injuries, affecting every layer of the skin, occasionally even penetrating fat and muscles. A patient may not feel pain from a third-degree burn, as it damages the nerve endings. Often these injuries require skin grafts, leading to significant scarring.
Fourth-degree burns. Fourth-degree burns are often fatal. These injuries reach all the way to the bone, and most patients don't recover. Those who do often suffer limb loss and amputations.
Treating severe burn injuries in CT
Treatment for burn injuries depends on the severity of the injury or the amount of damage the skin, muscles, nerves, and/or bones sustained. Treatment options for burn injuries include:
Antibiotics and treatment for infection
Antihistamines
Intravenous fluids
Massage
Skin grafts
Surgery
Medical advancements have made severe burn injuries much more survivable. Connecticut has its own burn treatment center, the Connecticut Burn Center at Bridgeport Hospital. However, burn victims still live with lifelong chronic pain and scarring. The healing process can be excruciatingly painful, and many patients need years of ongoing medical care and physical therapy.
With the short- and long-term healthcare needs for burn injuries, it's crucial you talk to experienced attorneys like those of Barry, Barall & Spinella, LLC who can ensure you're compensated fairly for your losses and damages.
Who is liable for my Hartford burn injury?
When your accident and injury was preventable and due to someone else's negligence, you're likely entitled to compensation. For example, if you were hurt in a car fire caused by someone driving drunk, you may be able to hold that driver liable for your injuries. Or, if you suffered burns in a fire because of a dangerous building, you may have a premises liability claim.
Our lawyers dedicate their resources to finding out who is liable for your injuries. We hold all responsible parties accountable, assess your needs, and seek maximum compensation for your:
Current and future medical care
Lost wages and future earning potential
Property damage and losses
Loss of enjoyment of life
Pain and suffering
If you've lost a loved one due to someone's negligence, you may be eligible to bring a wrongful death action. Our attorneys can provide guidance on how to proceed.
Trusted Hartford burn injury lawyers
Severe burns are life-altering injuries. The attorneys at Barry, Barall & Spinella, LLC understand the heavy financial and emotional burden of these injuries, and when another person causes your accident, it's important that they are held accountable. We fight for fair compensation for your injuries and losses. Contact us today to learn more. We're located minutes off I-384 in Manchester. To schedule a free consultation with one of our lawyers in Hartford or Manchester, please call 860-649-4400 or fill out our contact form.