Burn Injuries Increased During the Pandemic. Kitchen Fires Are a Leading Cause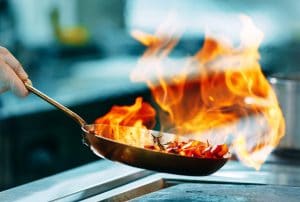 The pandemic has made chefs of most of us. Most everyone has tried baking sourdough bread. The British Baking Show is one of the most popular shows on TV. Admit it – you've washed more dishes since the health crisis started than you ever have. You've tried your oven, your microwave, your broiler, your toaster, and every appliance you have.
All these delicious treats come with a price, though. Cooking has one main ingredient: heat. And heat – when it spills, pours, or flows – can cause first, second, and third-degree burns. If not properly handled stoves, appliances, and other heating devices can cause fires.
A recent article in the Washington Post profiled the dangers of cooking in your kitchen. The article profiled a woman who was boiling some water while watching a cooking show on TV. She was also cleaning her microwave over her gas stove. "As she leaned forward, her shirt went up in flames, and when she tried to pull it off, her arm caught fire, leading to third-degree burns over nearly one-fifth of her body." The woman is lucky to be alive. She was confined to an intensive care unit (ICU) for 17 days.
The woman, a school speech therapist, hopes her difficulties can serve as a cautionary tale. The price for all this extra cooking is filling up more than people's stomachs. It's filling up local burn units and emergency rooms.
At the Firefighters Burn Institute Regional Burn Center at UC Davis Medical Center in Sacramento, there are more cooking fires now than there were injuries from the spreading wildfires earlier in the year. One burn surgeon, Tina Palmeri, said her team "has treated 92 serious cooking-related burns since January vs. 79 in 2019, with a sixfold increase from March to May." An additional 122 patients have been treated in the emergency room so far this year.
Another burn surgeon, at MedStar Washington Hospital Center, said she's seen a 40% increase in cooking-fire burns during the first three months of the pandemic. 50 patients with severe cooking-fire burns were admitted between August and October.
Burns can cause scars. Third-degree burns can cause nerve damage and loss of sensation. One burn surgeon said it's the constant itching that can be overwhelming.
General cooking precautions
There are many safety guidelines for cooking and fires.
You shouldn't put water on a grease fire. That can splatter the oil.
You shouldn't take the pan outside. Moving the pan can cause the burning liquid to spill.
You should know how to use a fire extinguisher.
You should have a lid ready to cover the pan or baking soda which can help douse the fire.
Some of the safety tips that the National Fire Protection Association suggests include:
Don't leave the kitchen while there's food cooking on the stovetop.
Keep oven mitts, food wrappers, and other flammable objects away from the cooking areas.
Don't wear loose clothing while cooking.
If your pots and pans catch fire, turn the heat off and "keep the door closed. Only open the door once you are confident the fire is completely out. Call the fire department if you are in doubt."
Keep children away from the stove.
Part of the problem, according to Dr. Johnson, the burn surgeon at MedStar Center, is that the pandemic is making people anxious which is contributing to mistakes while cooking or while trying to put out the fire. Adding to the problem is that many children are cooking because schools are closed – so they're home and want something to do.
At Barry, Barall, Taylor & Levesque, LLC, our Manchester burn injury lawyers work to hold all responsible parties liable for burn injuries or the death of a loved one. We seek damages for a burn injury victim's pain and suffering, wage loss, scarring and disfigurement, and economic damages. We file wrongful death claims on behalf of the families of deceased victims. To discuss any burn injury claim call us at 860-649-4400 or use our contact form to schedule an appointment. We serve Hartford, Manchester, and the surrounding areas.
Attorney Ryan P. Barry's civil practice focuses on personal injury, commercial litigation, workers' compensation defense, municipal law, and NCAA investigations. Attorney Barry is also a seasoned criminal litigator, having handled hundreds of cases in Connecticut's state and federal courts. Learn More