It's Time to Consider Applying for a Pardon – And We Can Help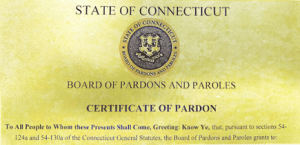 Above is a picture of a pardon that our firm recently secured for a deserving client. A pardon is a complete erasure of your official Connecticut adult criminal record. You can apply for a pardon five (5) years after your last felony conviction or three (3) years after your last misdemeanor conviction. Getting a pardon is a real game-changer for most people.
Having a felony or misdemeanor conviction may prevent someone from getting a job or a professional license for the remainder of their life, even if they committed a crime decades ago. Our lawyers understand the serious and far-reaching effects of a felony conviction. A pardon may not be appropriate in all situations. However, at some point in time for certain people, there is simply no longer any legitimate reason to continue to label them a felon. For example, many of our Manchester firm's clients who have sought pardons are people who were convicted of non-violent offenses many years ago. In the years since, they have contributed to society by holding onto good jobs, doing volunteer work, getting married, and raising families.
When someone convicted of a crime years ago has made great strides to rehabilitate themself, earn a living and take care of a family, a pardon can serve to recognize that effort and help that person get their self-respect back. A pardon allows a former felon to regain rights we take for granted, like voting on Election Day or serving on a jury. Therefore, in our opinion, pardons can help some deserving people be more engaged in our society.
Typically, our clients have simple, honest, and selfless reasons for wanting a pardon. Some want to coach their kid's baseball team. Others want to volunteer for their favorite political candidate during campaign season. Without a pardon, performing activities like these can be difficult or even impossible.
Just recently, we spoke to a former client who we helped get a pardon. We got to know this client very well throughout the pardon process. Learning what a positive impact the pardon has had on this person's self-esteem, family life, employment and community involvement gives us great satisfaction.      Most importantly, our client got his dignity back.
We want to help you, too.
Here at Barry, Barall, Taylor & Levesque, LLC, we represent clients in a variety of criminal defense matters. If you have been convicted of a felony or a misdemeanor and are interested in seeking a pardon, we are here to help.
To schedule a consultation to discuss your legal matter with one of our experienced attorneys, please call us in Manchester or fill out our contact form and we will be in touch. Serving Manchester, Hartford, and all of Connecticut.
Attorney Ryan P. Barry's civil practice focuses on personal injury, commercial litigation, workers' compensation defense, municipal law, and NCAA investigations. Attorney Barry is also a seasoned criminal litigator, having handled hundreds of cases in Connecticut's state and federal courts. Learn More