Can a Seller of Takeout Alcohol Be Held Liable for a Customer's DUI-Related Crash?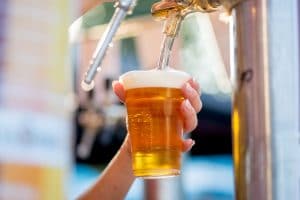 In Connecticut, anyone injured in a vehicle accident has a right to file a negligence complaint against the driver and the owners of the vehicle who were responsible for the accident. Sometimes, there are more than one liable party. If, for example, a bar refuses to cut off a patron who is visibly intoxicated, that bar could be held liable for any injuries sustained by other drivers in a crash under the state's dram shop laws.
According to Connecticut's dram shop law:
If any person, by such person or such person's agent, sells any alcoholic liquor to an intoxicated person, and such purchaser, in consequence of such intoxication, thereafter injures the person or property of another, such seller shall pay just damages to the person injured, up to the amount of two hundred fifty thousand dollars, or to persons injured in consequence of such intoxication up to an aggregate amount of two hundred fifty thousand dollars, to be recovered in an action under this section, provided the aggrieved person or persons shall give written notice to such seller of such person's or persons' intention to bring an action under this section.
Modification of sale of alcohol laws due to the coronavirus
The Department of Consumer Protection for Connecticut recently modified the laws for restaurants, cafés, and taverns that sell alcohol due to public safety concerns caused by the novel coronavirus. These restaurants and bars may still serve take-out food and deliver food. The new laws will allow some holders of liquor permits to sell alcohol as part of a take-out order.
The person who orders the alcohol:
Must be of legal age (generally 21)
Cannot be intoxicated when they pick up the take-out alcohol.
Per the implementation order, "Such locations may only sell sealed containers of alcoholic liquor consistent with the alcohol types that they are currently permitted to sell on-premise based on their permit type, and only if it is part of a take-out order that is being picked up by the customer that includes the pick-up of food prepared on premises."
There are additional requirements that apply for manufacturers of alcoholic beverages depending on the type of permit they have. In general, alcohol cannot be consumed on the premises. The amount of alcohol that can be sold is regulated. The hours of operation are generally the same as for a package store.
One exception that may apply is that the order does permit hotel permit holders to serve alcohol to hotel guests and visitors. If these guess and visitors injure or kill someone due to their intoxication, the hotel may be liable.
There's no excuse for irresponsible behavior during these difficult times. Restaurants, taverns, hotels, and other sellers may still be liable even under the new order permitting alcohol take-out orders. The experienced Hartford and Manchester car accident lawyers at Barry, Barall, & Spinella, LLC, have the experience and resources to help you get justice. If you were injured or a loved one was killed due to a drunk driver, call us at 860-649-4400 or use our contact form to make an appointment.