Criminal Activity Spikes at the Holidays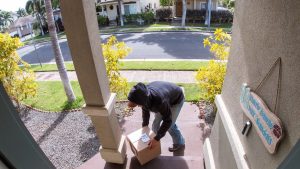 This holiday season will be unlike any other holiday season in some respects, due to the pandemic. Many people are staying inside. Many shoppers are buying online. A lot of people are struggling financially because they can't run their business, or they can't meet with the people they need to see. Still, if there's one constant, it is this: there will be criminal activity during the holidays.
Drivers will still speed and drive while intoxicated (especially on New Year's Eve). Robbery, larceny, and other crimes of opportunity will likely spike this year as they have in other years. Some of the types of crimes that are more common during the holidays are:
Mail and package theft. The holidays are a time for presents. With fewer family and work gatherings, it's expected that most people will receive gifts through the mail or through personal deliveries. Because mail and package delivery people have limited contact with residents, many items will be left on doorsteps – where they can easily be stolen. Anyone taking the property of another from a porch or doorstep should understand most packages are traced, so it's known when the items are delivered. Many homeowners are at home. Many homes have cameras and video which can monitor any thefts.
Credit card fraud. There are many ways someone can steal and use your credit card information. Common techniques include using ATM card skimming devices, fake phone calls, fake websites, cybertheft, and pretending to be a law enforcement officer.
The temptation to steal an article of clothing or merchandise is strong during the holidays – especially for younger shoppers. There are defenses to shoplifting such as contesting the value of the items. Experienced Manchester defense lawyers may also argue that it can't be shoplifting if you haven't left the store.
Return fraud. This type of fraud includes returning items that weren't purchased at the retail store. Most stores ask for a receipt before paying for a return.
Burglary and vehicle theft. Pre-pandemic, many homes were broken into because homeowners, renters, and families spent more time away from home during the holiday visiting family and friends, and helping out with charities. Shopping malls and retail stores often have more cars, which are invites people to steal from those vehicles while the car owners shop.
There are defenses to many crimes including theft, shoplifting, burglary, and other crimes that occur more during the holiday season. At Barry & Barall, LLC, our premier Manchester defense lawyers fight for criminal defendants from the arrest through the trial. We contest the admissibility of evidence, challenge the basis for an arrest, and contest each element of the offense. Our lawyers work to obtain dismissals of the charges, to negotiate just plea bargains, and to obtain jury acquittals. If you've been charged with a crime (or someone you care about has been charged), call us at 860-649-4400 or use our contact form to make an appointment. We serve Manchester, Hartford, and the surrounding areas.