Let Us Help Move Your Case Forward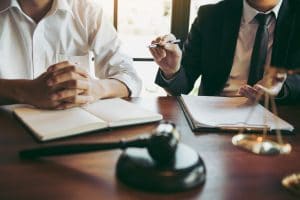 In these unprecedented and unsure times, you can rest assured that Barry, Barall, Taylor & Levesque, LLC can work to move your case forward, whether it is in criminal or civil court. While many businesses have ceased normal operations, or have gone entirely remote, we continue to push forward with many different safety precautions in place. Whether you need to schedule a virtual consultation, attend a court hearing, or meet with us in the office, you will feel safe and secure at all times.
We have the technology in place
The changes we've made to our operations have only bettered our firm and made it easier for our clients to protect themselves and their loved ones. The firm continues to operate five days per week with the majority of employees working at the office. We are still responding to emails, answering or returning phone calls, and scheduling appointments with existing and prospective clients.
Our firm has implemented security measures that ensure any and all virtual meetings remain confidential. This also goes for phone calls, since some are answered on landlines outside of the firm's physical office. You can have peace of mind knowing that all conversations with our attorneys still retain the attorney-client privilege.
Safety is our utmost concern
We know that not all legal matters can be handled remotely, which is why safety is our utmost concern if you need to visit our office. When you enter the office, you will there are masks and hand sanitizer on a table upon entering the waiting room. Masks are required for anyone who enters the office, including our lawyers and staff, to help mitigate the spread of the virus. We ask that you wash your hands upon entering our office or apply hand sanitizer before walking into our conference room.
A plexiglass divider has been installed on the reception desk. This protects our receptionist and other staff as well as all those who visit the office. You will notice that the chairs in the conference room, as well as in the waiting area, have all been placed six feet apart. This helps our staff and our clients maintain the recommended six feet of distance from each other.
We haven't stopped fighting for you
Whether you are a current client or a prospective client, we have not and will not stop fighting for you. We have put the aforementioned measures in place so that we can continue to operate as normally as possible. We continue to move cases forward by holding depositions, court hearings, negotiations, mediations, and consultations virtually from our state-of-the-art conference room.
You do not have to accept a settlement offer or enter a guilty plea just for the sake of resolving your legal matter when our team can fight for a better outcome.
Are you in need of legal assistance from a criminal defense or personal injury attorney? Are you concerned about moving your case forward in the middle of the pandemic? If so, please call the office of Barry, Barall, Taylor & Levesque, LLC, at 860-649-4400 or complete a contact form to schedule an appointment today. Our experienced team of attorneys represents clients in Hartford, Manchester, and the surrounding towns.