What Do I Do When There's Been a Parts Recall on My Car?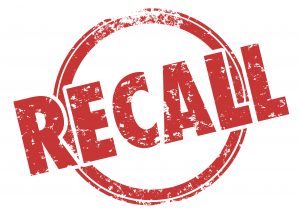 Vehicle recalls are issued when there has been a safety defect detected in a part, either by multiple mechanics or drivers, or after the National Highway Traffic Safety Administration ("NHTSA") investigates, or after a string of similar accidents. Issuing a recall is important because of the likelihood that a malfunctioning part will cause serious personal injuries to multiple vehicle owners and the victims who may wind up collateral damage when the part fails.
Whether you receive the recall notice in the mail or not, you are always able to check for recalls on your vehicle by vehicle identification number (VIN) on the NHTSA website. Any work done on your vehicle as part of a recall should be made free of charge to you, as the vehicle owner. It's up to the manufacturer to make things right when a part they placed on your vehicle doesn't work as intended. When you learn that there is a recall on your vehicle, there are steps you should take to get it repaired:
Contact your local authorized dealership to make an appointment to bring in your vehicle. Some recall issues can be taken care of the same day as the dealership will typically have the parts on hand to change out quickly once a national recall campaign is in effect.
If your repair is going to take time, talk with the service department about arranging for a rental car, and they should take care of the rental charges.
Keep a copy of the recall notice and all paperwork you sign or receive as a result of the work done on your vehicle, especially if you have been involved in a car accident and believe the defective part could be to blame.
Depending on just how serious the parts defect is, there are options the manufacturer has for resolving a recall and because they are paying for it, they have complete discretion in which remedy to choose.
Repair: This is usually the avenue chosen by the manufacturer in the case of minor defects that can be handled quickly such as replacing tires or an air bag.
Refund: In the case of significant safety risks, manufacturers may choose to refund the purchase price of your vehicle, less a reasonable amount for depreciation. This option is generally reserved for the most severe defects where the manufacturer feels the best option for maintaining safety is to remove that vehicle from the road rather than risk liability. You may also be entitled to a refund for repairs you made to equipment for which a recall was later issued.
Replace: In some cases the manufacturer may feel replacement of your vehicle or equipment is the best option over attempting to make repairs. Again, you will not have the ability to choose the replacement vehicle or equipment.
If you look to the manufacturer for reimbursement for repairs you made previously that wound up part of a recall, there are time limits for being granted the refund based on "the date NHTSA opens its Engineering Analysis, or [the repair being made within] one year prior to the manufacturer's notification of a defect to NHTSA, whichever is earlier." In other words, don't delay if you expect a refund.
Barry & Barall, LLC understands the frustration that comes with learning that the vehicle you drive every day has been deemed unsafe, and may already have caused you to become injured. That's why we want you to know what to do if it happens to you. For any other questions regarding a car accident or a resulting injury, call us at 860-649-4400 or fill out our contact form.